The UK's FIRST e-learning course for marquee erectors.
The course, which is for crew members and new starters, is intuitive and engaging thanks to the input of industry experts and online training specialists.
With four key modules and videos throughout, the course covers the fundamentals of how to erect a frame marquee safely and effectively.
At the end of each module, candidates must complete a short series of assessment questions before progressing.
If the candidate answers the questions correctly, a certificate will be issued at the end of the course.
MUTA would like to thank the Event Industry Forum for funding 50% of the course development.
Click here, then 'Create new account' to get started.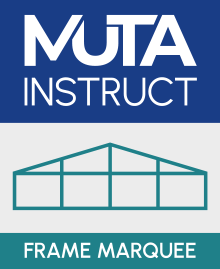 How much does it cost?
– £29.99 +VAT for MUTA members
– £39.99 +VAT for non-members
What can you expect?
– Only takes an hour to complete
– Can be taken on any device, anywhere
– Videos and assessment questions throughout
– Certificate on course completion
What does it cover?
– Frame connection and erection
– PVC installation
– Finishing and checks
– Dismantle
How will you benefit?
– Reduce your risk of being sued
– Make sure everyone gets home safely
– No need to send staff away for training
– New staff can be trained before they start